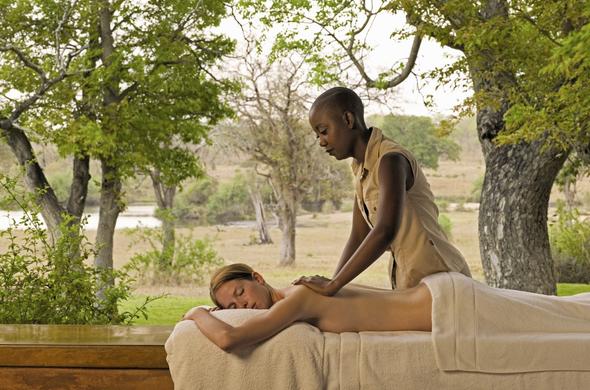 Singita Game Reserve Spa is renowned for their holistic and healing approach when it comes to the spa experience.
Located in a remote location in the African wilderness, the beautiful spa treatment rooms allow you to escape to a haven of peace and tranquility for the most luxurious spa day of your life.
A true African safari experience includes countless interactions with wildlife, but none is complete without treating yourself to a number of spa treatments while staying in the rugged bush. The spa at Singita caters to those seeking an authentic and unique safari spa, and you can find yourself luxuriating in the wonderful outdoors with organic Kalahari melon-infused body butter after an exciting wildlife bush drive that can only happen in Africa.At Singita Spa, you will experience more than just being physically pampered, but will heal you spiritually as well as emotionally. The spa menu features indulgent beauty rituals specially designed treatments using products from Dermalogica, massage therapies using essential oils and balms that come from African soils that also harness medicinal powers.The team of professional therapists will heal you by using unique techniques that will leave you feeling revitalised. Nothing is as soothing and relaxing than enjoying a massage from the healing hands of these therapists after the a game drive. Feel the tension being released from your body as the therapists use dried monkey oranges, and other indigenous fruit, as massage tools during your unforgettable African bush spa experience.