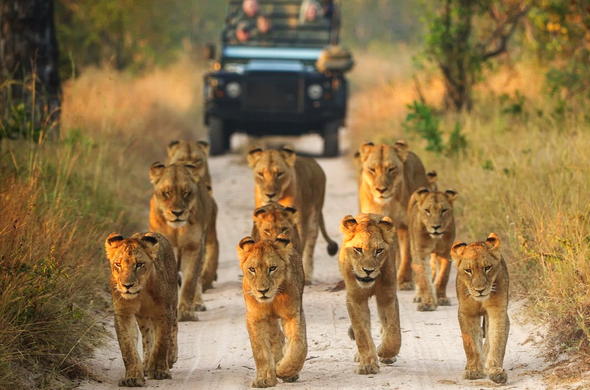 Singita Game Reserve in South Africa offers some incredible game viewing opportunities while on excursions led by knowledgeable guides.
Set out to explore the beautiful Singita Game Reserve which forms part of the Sabi Sands Private Reserve - one of Africa's greatest wildlife destinations. It is
home to abundant wildlife including the Big Five
. These consist of Lion, Leopard, Elephant, Black Rhino and Buffalo. The region is well known for its Leopard sightings. The Leopards have become habituated to the presence of vehicles.
A Typical Stay at Singita
Most people will arrive at the Singita safari lodge in the afternoon and there will be time for an
afternoon game drive
after a tasty high tea. Game drives take place in specially adapted open- sided safari vehicles with no more than six people per vehicle, ensuring an exclusive safari experience.The guides are extremely knowledgeable about the region, and can tell you more about the animals encountered. They are very familiar with the areas Leopard population and can often
identify individuals and family groups
. You are almost certain to see a Leopard if staying for a few days.The drive will stop off in a scenic location for sundowners and to watch the beautiful sunset. Afterwards it will continue with the aid of a spotlight, and glimpses of nocturnal animals such as
Honey Badgers or Hyenas
might be seen. Many of the big cats such as Lion and Leopard are also more active during the cooler hours of the night.Once you have returned to your Singita Safari lodge, there will be time to freshen up before a
tantalizing dinner
which will be served out under the stars - weather permitting. After dinner, spend some time relaxing around the campfire or bar and chat with the other guests, before heading back to your luxurious suite.In the morning one of the guides will wake you up early - around 5:30 am in summer, for the
morning game drive
. There will be time for a quick cup of coffee and a snack such as muffins before you leave. Many of the animals are at their most active and this is one of the best times to see different species of animals.You might be lucky enough to come across an endangered Rhino or
African Wild Dogs and Cheetahs
. The reserve is also home to many antelope such as dazzles of Zebras and huge herds of Buffalo and Wildebeest.The game drive will stop off for tea after a couple of hours before continuing the
African safari experience
. Around mid morning you will return to the lodge and a decadent brunch will be served. Generally the management, guides and guests all dine together and you can discuss the day's sightings. Afterwards there is some down time which is perfect for a siesta or a quick swim in the pool to cool off.If you are feeling energetic bush walks can also be arranged. This is a great opportunity to spot some of the
500 or so species of birds
which occur in the region. They are led by one of the knowledgeable guides who will talk about bush survival and tell you more about the birds and animals seen. Back at the lodge there will be some time to relax before tea and the afternoon game drive sets out.